There's a touch of bitterness from the Guinness, there's the salty surprises, and then the uber sweetness of the caramel.  If you are looking for an indulgent show-stopper this just may be it.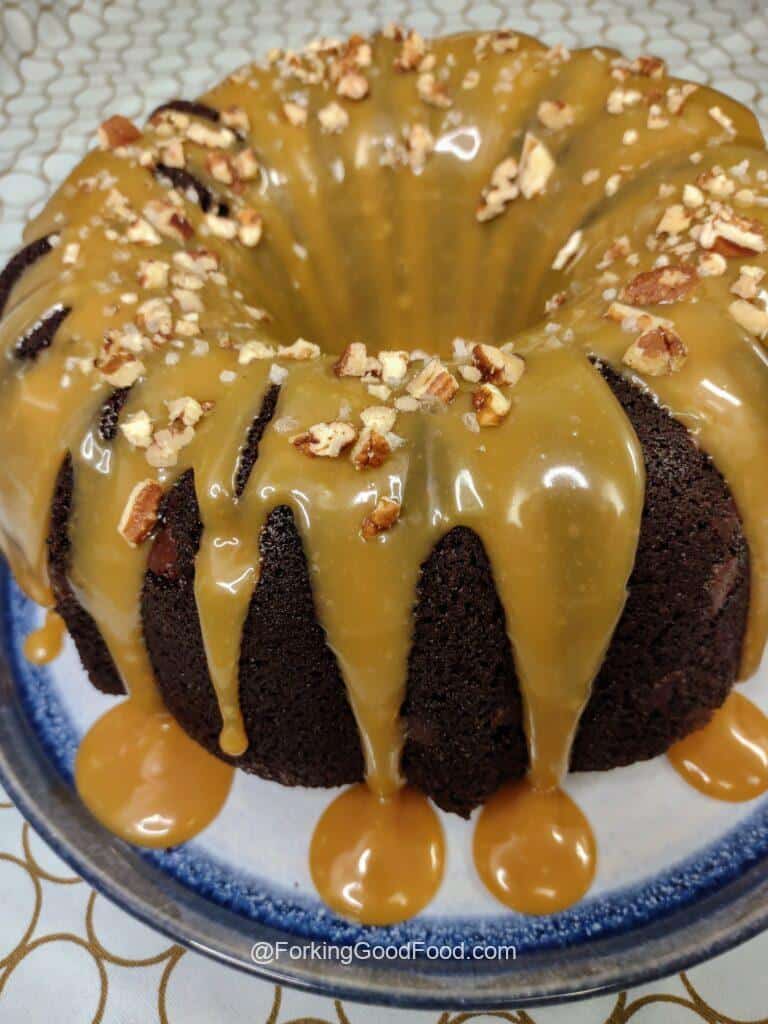 My best friend Kimmie and I came up with this cake late one night and now I think I'll never make any other chocolate cake ever again.  It has everything you want in a chocolate cake.  It's rich, dense and very moist. So if you are looking for a great St. Patrick's Day cake recipe, trust me you will love us for this one!
Why is it called "turtle" cake?
Well, Turtle cake is a take on turtle pie, which is a take on the Delmet's Turtle candy that looks like a cute little yummy turtle. For any dessert to be called "turtle" it must consist of at least three key ingredients: Chocolate, Caramel, and Pecans.  The hardest, or easiest part, of this cake is making the caramel.  The way shown in this recipe is by far the quickest with consistently great results.  The "boil a can of sweetened condensed milk" method used in my Easy Banoffee Pie is also consistently good, but it takes HOURS.  You can always make caramel yourself, which is exceedingly good, but can be difficult to master. It's ALL about the temperature and willpower not to stir.  So you have options, yummy, good, sinfully sweet options.  Pick the one that suits you best and run with it.
Can you use beer in cake?
Yes you can!  And it's delicious!  We chose Guinness for this particular recipe because it makes the cake almost black and those bitter undertones pair so nicely with the chocolate. You can also use wine or spirits to achieve different flavors. I'm actually dying to make this cake using Port but that will have to wait for another day.  If you don't want to use alcohol for personal reasons try using a cup of weak coffee and you will get a slight mocha flavor.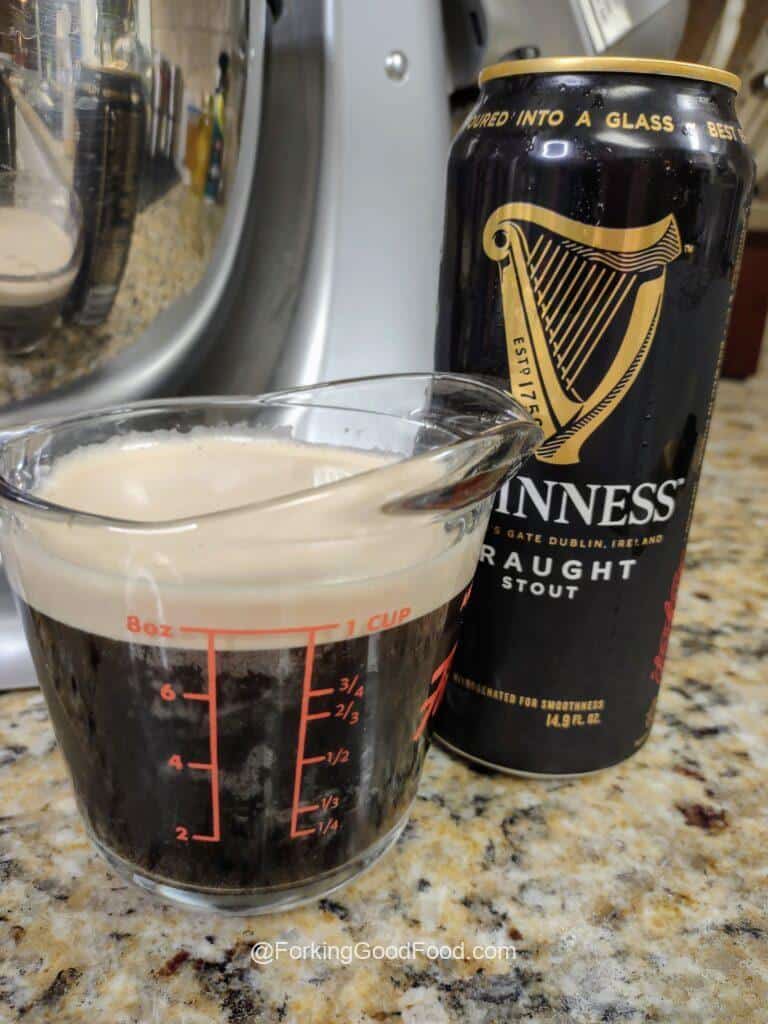 Enough talk - let's make a cake!
Gather your main ingredients: Guinness, butter, cocoa, sour cream, chocolate chips, pecans and a few other things from your pantry.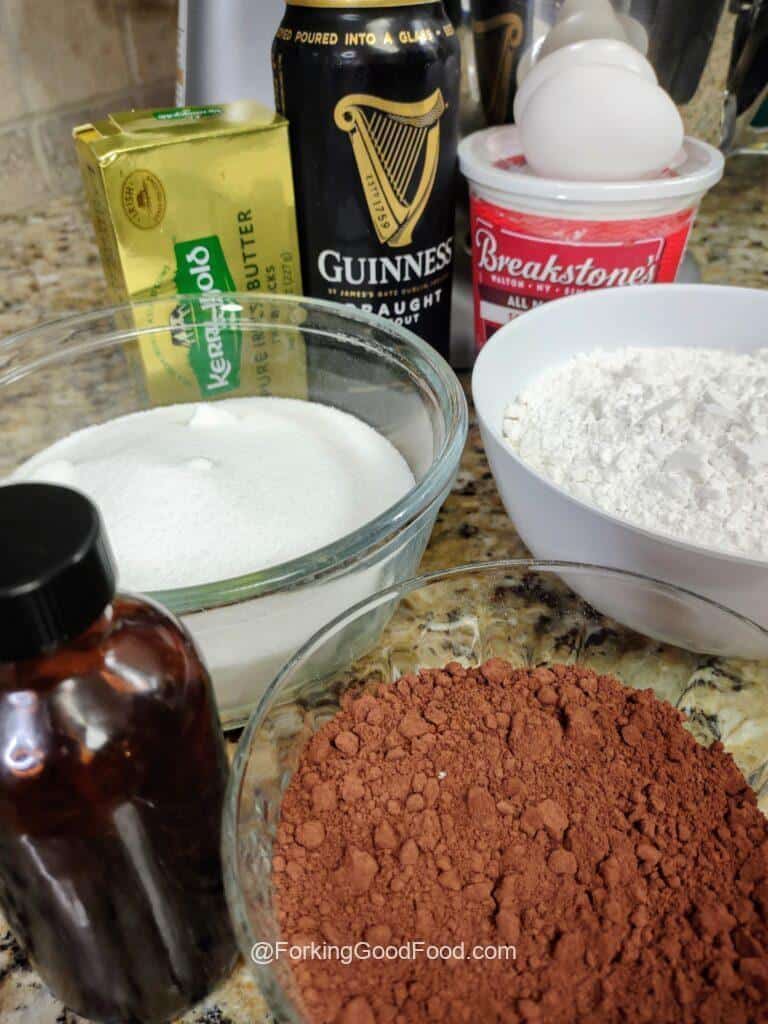 Preheat your oven to 350. In a medium saucepan heat the beer and butter until all the butter is melted and incorporated.  Add your cocoa and sugar and cook on low until all the sugar is dissolved, stirring constantly. Remove from heat and set aside, While the beer mixture cools a little, whisk the sour cream, eggs, and vanilla until smooth.  Pour in the Guinness mixture and continue to whisk until glossy with no white streaks remaining.  With the mixer on low speed, slowly add the flour and soda in heaping spoons, letting all the dry ingredients mix in completely before adding the next spoon.  Turn the mixer to medium and whisk for two minutes.
Pour half the batter into your prepared cake pan and sprinkle with the chocolate chips and most of the pecans.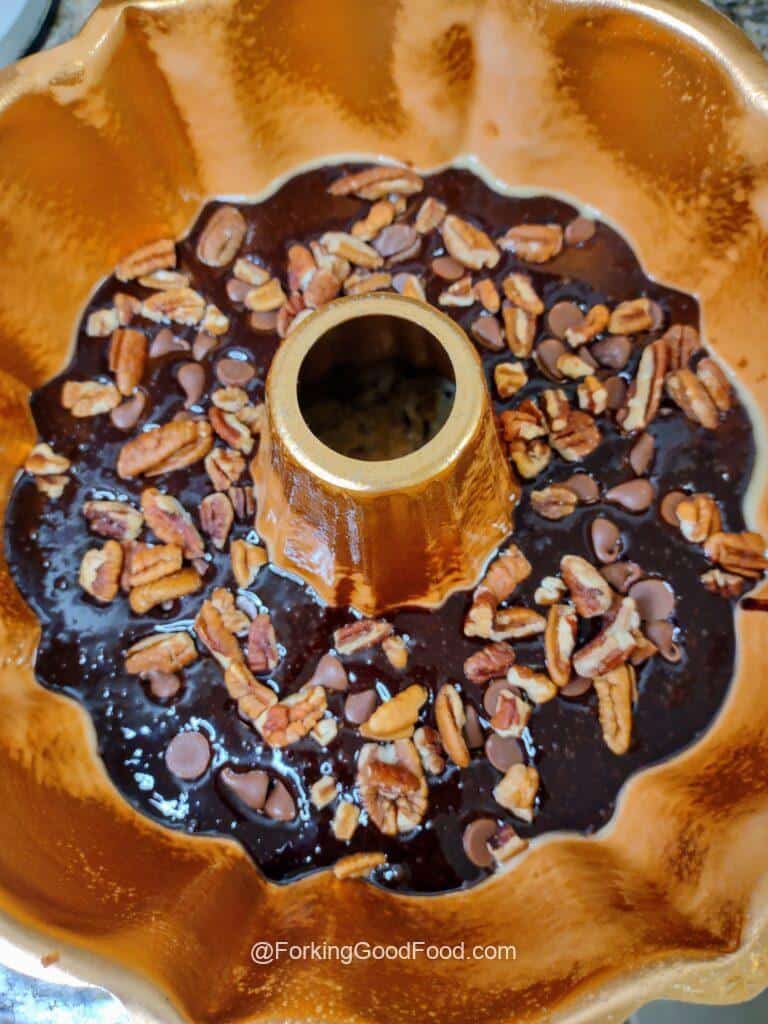 Pour the remaining batter on top, give the pan a few light taps to remove any air and pop it in the oven for about an hour (I'd check it at the 45 minute mark)  let cool for about 10 minutes in the pan before flipping to a wire rack to cool completely.
While the cake is cooling make your caramel sauce.  Add the caramels, unwrapped of course, milk and butter to a heavy saucepan and cook over medium heat until the mixture is smooth and creamy.  Stir often during the cooking process and frequently as the sauce is cooling to prevent any film from forming on top.  Conversely, you could place a piece of plastic wrap directly onto the surface of the caramel.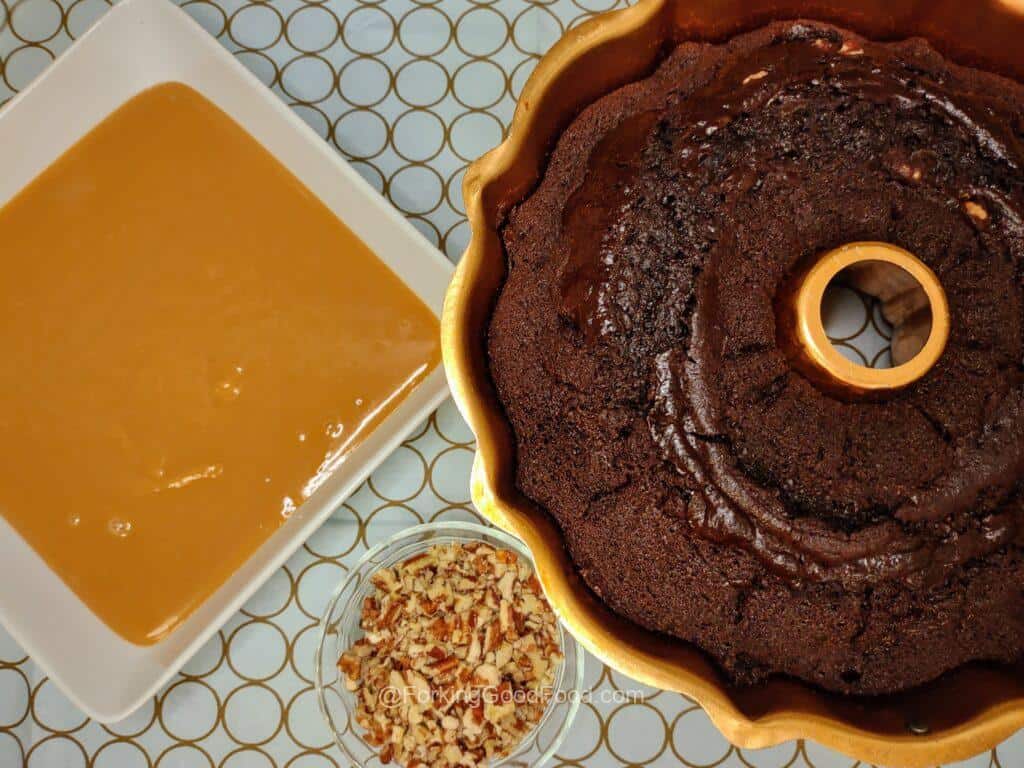 Pour the caramel slowly over the cake to create the nice drizzly drippy look, pouring any excess in the "hole" so you get a gush of caramel when you slice it.  trust me, people are going to want to scoop up the extra.
Garnish with extra pecans and a sprinkle of coarse sea salt and you're all done.  You may want to grab a tall glass of cold milk to go with this one!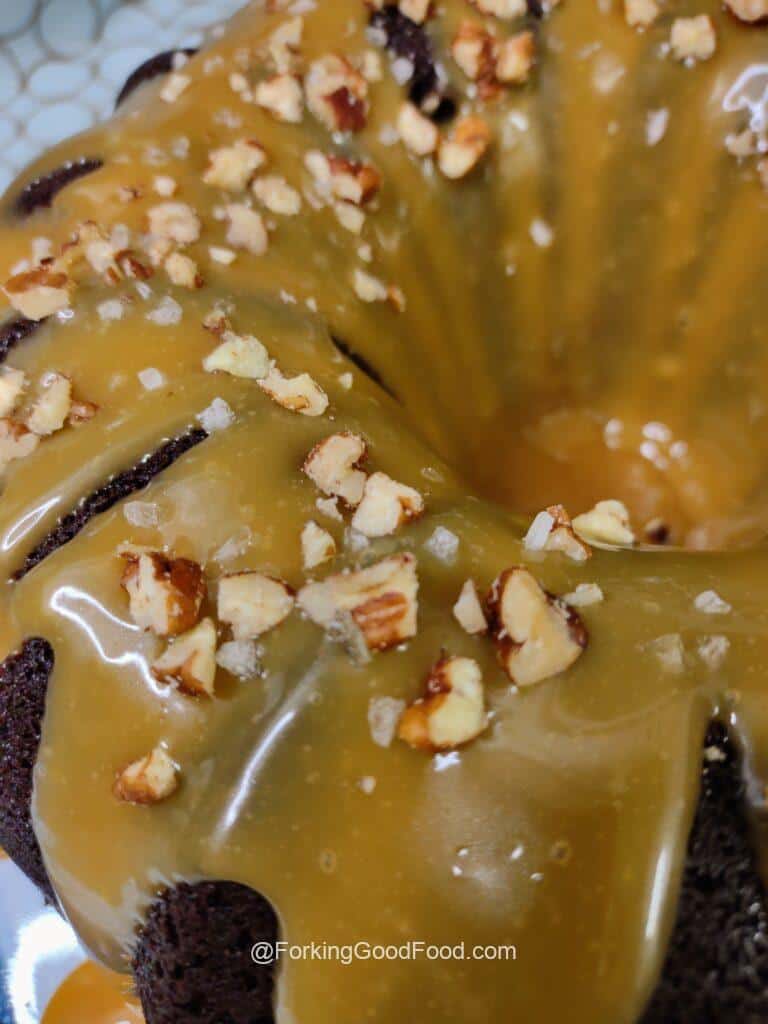 Make sure to try our traditional Irish Brown bread too!
Recipe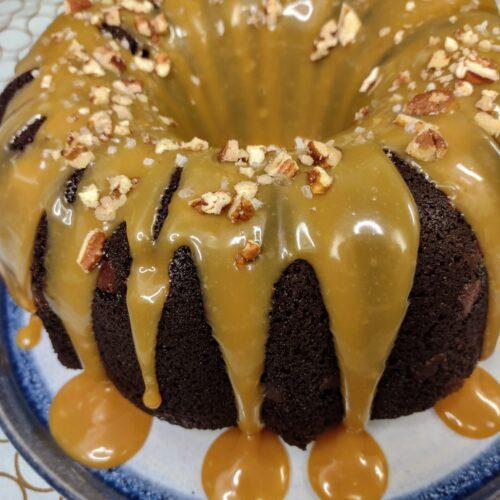 Guinness Turtle Cake with Salted Caramel
This nearly black, decadent Guinness Turtle Chocolate Cake is super moist, rich, and bursting with flavor from the salted caramel.
Equipment
Standard Bundt pan

Stand Mixer
Ingredients
For the cake:
1

cup

Guinness Stout

1

cup

KerryGold Butter

salted, sliced or cubed

⅓

cup

cocoa powder

1 ½

cup+3 Tbs sugar

⅔

cup

sour cream

2

large eggs

1

Tbs

vanilla extract

2 ¼

cups

AP Flour

2 ½

teaspoon

baking soda

¼

cup

milk chocolate chips

¼

cup

pecans + more for garnish

chopped fine

1

teaspoon

coarse salt for garnish
For the caramel:
1 14

oz

bag caramels

unwrapped

½

cup

evaporated milk

¾

cup

butter

salted
Instructions
Make the cake:
Preheat the oven to 350℉

Spray a traditional Bundt pan with cooking spray that has added flour

Pour the Guinness in a medium pot and add the butter. Meat on medium to medium low heat until the butter is completely melted

Add the cocoa and sugar to the pot and stir until the sugar is completely dissolved. Remove from heat and set aside

In a large bowl or stand mixer whisk the sour cream, eggs, and vanilla until well incorporated and smooth

Add Guinness mixture to the souor cream, egg, and vanilla mixture, mixing until just combined.

On low speed, slowly add the flour and soda in small batches until well incorporated

Increase speed to medium and whisk for an additional 2 minutes

Evenly pour half the batter into the prepared Bundt pan

Gently toss the chocolate chips and pecans in a little flour and sprinkle on top of the cake batter

Pour the other half of the cake batter into the Bundt pan, then tap lightly on the counter a few times to remove any bubbles.

Place the Bundt pan on a baking tray for added stability and bake on the middle rack for 45-60 minutes or until an inserted thin skewer comes out clean

Cool in the pan for about 10-15 minutes and turn out onto a cooling rack to cool completely
Make the caramel:
While the cake is cooling make the caramel

Add all the ingredients to heavy saucepan and melt over medium-low heat, stirring almost constantly

Once completely melted, remove from heat and allow to cool for about 15 minutes until thickened. Stir occasionally to keep a film from forming on the top

Pour the caramel slowly over the cake to get a nice drizzle effect

Garnish with additional pecans and a sprinkle of coarse salt
Notes
I highly recommend using salted butter and the salt garnish.  This cake is very rich and almost cloyingly sweet so the salt cuts that a bit
You can toast the pecans if you like.  Sometimes I do, sometimes I don't.  I happen to like it both ways so this is a personal preference - you do what you like the most.
Nutrition
Calories:
380
kcal
Carbohydrates:
42
g
Protein:
6
g
Fat:
21
g
Saturated Fat:
11
g
Polyunsaturated Fat:
2
g
Monounsaturated Fat:
6
g
Trans Fat:
1
g
Cholesterol:
62
mg
Sodium:
748
mg
Potassium:
207
mg
Fiber:
2
g
Sugar:
22
g
Vitamin A:
494
IU
Vitamin C:
1
mg
Calcium:
126
mg
Iron:
2
mg