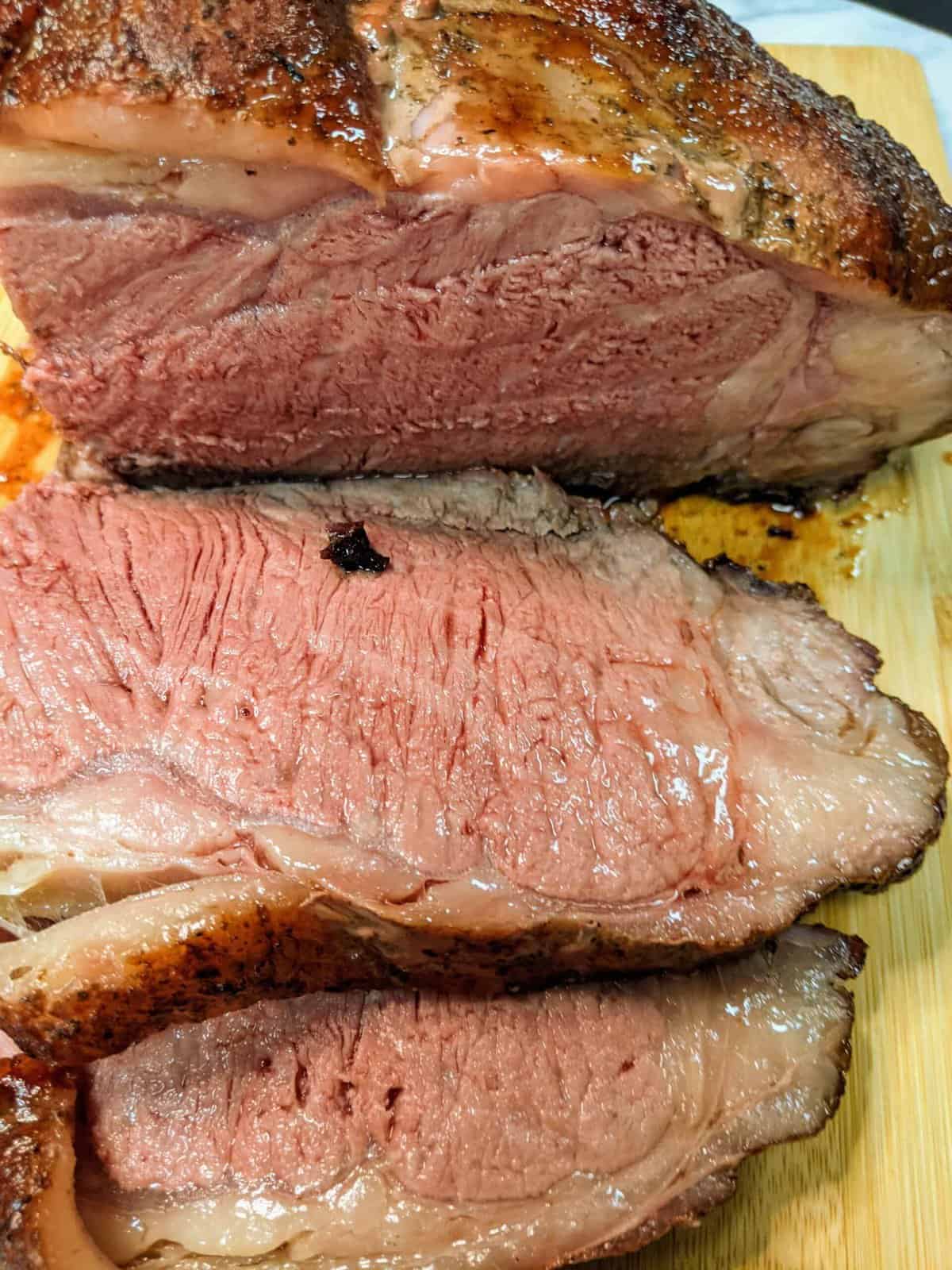 Smoked New York Strip Roast
A Smoked New York Strip Roast is the perfect centerpiece for any dinner party, holiday celebration, or family gathering. Smoked roasts are easy to prepare and look impressive on the table. Whether you're looking to wow your guests with a luxurious meal or just want something delicious and filling, Smoked New York Strip Roast will do the trick!
Smoked New York Strip Roasts are also fairly easy to make and require only a few ingredients. The great part is, these roasts are comparable to Prime Rib roasts and are normally much cheaper and easier to get. 
This is a great dish that requires little effort but has amazing results! You can even make Smoked NY Strip Roasts ahead of time for an easy weeknight dinner idea.
What do you serve with a New York Strip?
Serve Smoked New York Strip with Kamado Joe Smoked Baked Potatoes, Turnip Greens with Carmelized Onions, Smoked Baked Beans with Bacon or your favorite side dishes!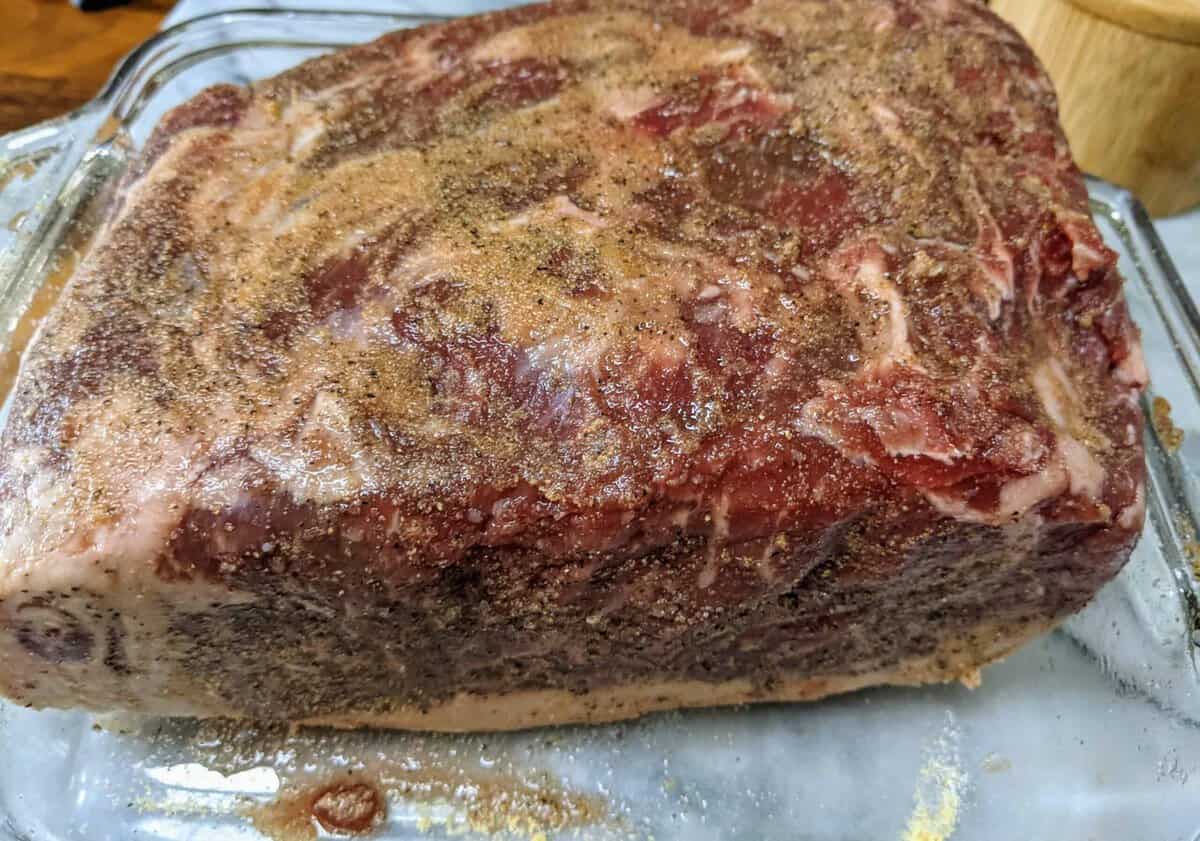 How To Cook Smoked New York Strip Roast:
Preheat smoker to 225 degrees Fahrenheit with the wood chips of your choice. I prefer applewood when smoking New York Strip Roasts, but you could also use mesquite. Splash with olive oil and then apply the seasoning generously on all sides of the roast. Let rest for at least 20 minutes before cooking. Place the roast directly on the grates and cook. 
NY Strip Roasts usually take around two hours to smoke at a steady temperature of 225 degrees Fahrenheit. The Roast is done when the internal temp reaches 125 degrees F for Rare or 135 degrees F for Medium and will be a nice pink color throughout. Use a Meat Thermometer with a Probe to make it easy!
Smoked New York Strip Roasts are also great leftovers and can be eaten cold or reheated. I prefer to heat my cast iron and cook them for just a few minutes on each side. I also like to cut them up in chunks. Mix with veggies or eggs for an easy meal!


Recipe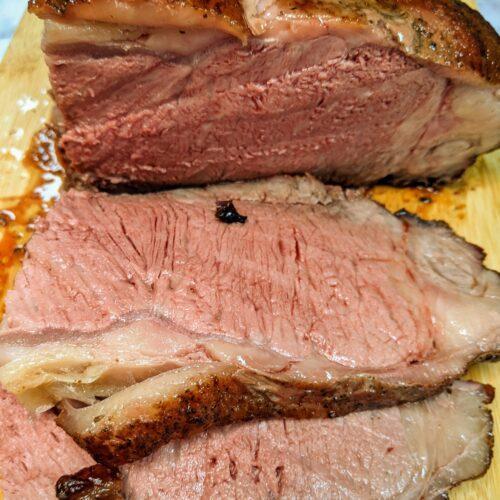 Kamado Joe Smoked New York Strip Roast
A relatively inexpensive roast that will WOW your guests!
Ingredients
4

pound

boneless New York strip roast

- Also called a strip loin roast in some regions

2

tablespoon

olive oil

2

Tablespoons

pepper

2

Tablespoons

sea salt

2

Tablespoons

paprika

1

Tablespoon

garlic powder

1

Tablespoon

onion powder
Instructions
Preheat your grill to 225 degrees F and soak your wood chips.

Trim any excess fat to ¼ inch thick.

Cover with olive oil and top with seasoning. Rub in to thoroughly coat.

While your roast is resting. Add the chips to your grill and prepare it to smoke.

When it is at temp, place the roast on the grill and close the lid.

Smoke until the internal temperature of the roast reaches 125 degrees F for Rare or 135 degrees F for Medium.

Remove the roast to a cutting board, cover with foil for twenty minutes.

Serve and enjoy!
Nutrition
Calories:
425
kcal
Carbohydrates:
3
g
Protein:
65
g
Fat:
15
g
Saturated Fat:
4
g
Polyunsaturated Fat:
1
g
Monounsaturated Fat:
8
g
Cholesterol:
166
mg
Sodium:
2503
mg
Potassium:
1080
mg
Fiber:
1
g
Sugar:
1
g
Vitamin A:
108
IU
Vitamin C:
4
mg
Calcium:
77
mg
Iron:
6
mg